Stone Slinger™ Aggregates Delivery & Placement Systems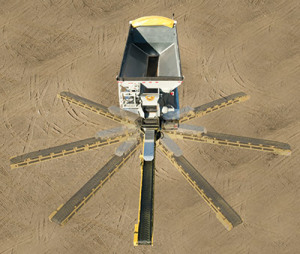 For precise, labor-free placement of materials on a jobsite, the original Ultra Stone Slinger™ by W.K. Dahms is still the industry's preferred "precise placement" materials delivery system.
The Stone Slinger™ system puts dirt, mulch, top soil, screening, aggregates and sand precisely where you need it. The Stone Slinger™ conveyor accurately places material up to 90 feet from the end of the truck:
Eliminate the need to re-handle material
Reduce construction time and clean-up
Improve your bottom line
Safe, sure and durable, every Stone Slinger™ is built to order by experienced fabricators using the finest materials and components.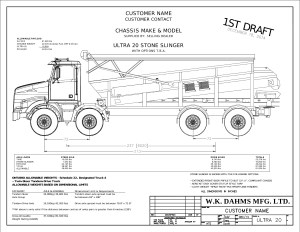 The Stone Slinger™ & Chassis Selection Process allows us to maximize the Stone Slinger™ configuration. At W.K. Dahms, we work with our dealers and customers to ensure that their unit will meet their legal DOT weight and axle configuration specifications. For each unit built, a chassis layout drawing based on the legal GVWR, is completed. This is critical to ensure that the unit will meet the road rules in its jurisdiction.
Choose from five basic models with numerous options available to suit your specific needs. For special applications, rely on our Engineering Services to create unique 40 cu. yd. or trailerized solutions using Stone Slinger™ technologies.
Stone Slinger™ Features
Live Bottom Conveyor
Our live bottom conveyor eliminates gates, beams and the issues associated with them. Powered by a robust planetary drive, the live bottom system off-loads smoothly to the conveyor belt.
Super-Shield™
The Super-Shield™ Power Drive matches the conveyor belt speed to improve control of material on the belt and allow precise delivery, even to those difficult to reach areas up to 90 ft. away.
Conveyors/Precision
With a 220º working pivot radius and an increased angulation of 23º above and below the horizontal, operators have complete control for precise placement up to 90 ft.
Remote Operation
Combining optional Can-Bus controls with our hydrostatic "creep" drive allows Stone Slinger™ operators to reposition the truck by remote control while they operate the conveyor speed and direction.
Self-propelled OS7
For large projects, the OS7 allows non-stop, remote-operated placement of up to 400 tons per shift. Feed the hopper onsite from stockpiles using available loaders. The high-speed conveyor system has its own hydrostatic drive platform for positioning.
Contact us for more information.