Stone Slinger™ Quality Fabrication
W.K. Dahms Mfg. Ltd. built its reputation of excellence in metal fabricating by consistently producing equipment that meets our customers' goals of precision, reliability and durability.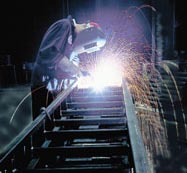 Our quality discipline has made Stone Slinger™ today's first name for dependability in aggregate placement systems. W.K. Dahms brings the same stringent standard to every fabrication project we undertake.
With over 21,000 square feet of manufacturing facilities, the latest in fabricating technology and the decades of experience from our skilled trades people, W.K. Dahms Mfg. Ltd. works directly with our customers to fabricate precisely what they need to get the job done.
Working in steel, aluminum or stainless steel, equipment built in our shop begins with the highest grade material, completed by highly experienced skilled trades people. Our team will work to your existing engineered drawings or will design and original solution to turn your ideas into finished products.
The modern, fully equipped machining and fabricating shop includes four 5-ton bridge cranes and two 2-ton bridge crane with 19 feet under the hook plus three 16 foot by 16 foot doorways and one 15 foot wide by 19 foot high door.
Regardless of the challenge, W.K. Dahms Mfg. Ltd. will find the way to satisfy your fabrication needs with quality, service and reliability.
Contact us for more information.